Keeping the traditions alive
All the latest news from Wath Morris. Details of our current programme.
Information and history about morris dancing and about Wath Morris
Links to related folk music and dance. Photo gallery, stories and contact details.
We have tried to make this site as attractive, informative and user-friendly as possible
Wath Morris are exponents of the Bledington tradition and one of the best Border Morris sides in England. The team have performed the length and breadth of Britain, and overseas in Ireland, France and Holland.
Formed in 1972 with three founder members (Eric Pressley, Dave Wigfield and John (Mont) Auckland), the team learned its first dancers from Ivor Allsop (later to become Squire of the Morris Ring). The side made their first public appearance in May 1973 at the inaugural Wath May Welcoming Celebrations, which became in time, Wath Festival. 46 years on, Wath Morris still perform at Wath Festival every year, but now also have a comprehensive dance programme throughout the year.
The side initially performed a wide variety of traditional and self-penned dances, but in 1977 the team applied for membership of the Morris Ring, the national umbrella organisation for Morris dance, and were told that to be eligible for membership they would have to improve their standards.
In early 1978 the team held an instructional weekend taught by Bert Cleaver, one of the country's foremost Morris dance teachers and musicians and through focusing on a single tradition, Bledington (a small Gloucestershire village where morris had traditionally been danced), they started to improve their personal skills, team cohesion and standards of performance.
After retiring from his teaching post in London, Bert relocated to Barnsley and became both mentor and lead musician to the team. Under his tutelage the team achieved high regard nationally for their dancing skills and standard of performance.
Some years ago, the team decided to add a winter dance tradition to their repertoire (Bledington being a summer tradition), and now dance "Border Morris" through the winter months.
The team have always performed mummers plays, though now restricting performance to the Christmas season, and have, over the years, performed many traditional plays collected from South Yorkshire. In recent years, Longsword dances have also been added to the repertoire.
With their roots in folk music it is no surprise that the team still sing and play folk music and most dance-outs culminate in a song and dance session in the pub after the dancing finishes.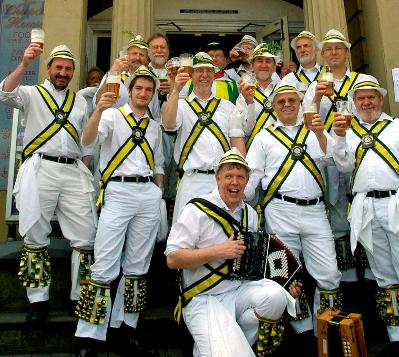 Perhaps the best known variety of the Morris is that which was collected by Cecil Sharp in the villages on the uplands of Gloucestershire, Oxfordshire and Northamptonshire, and which has therefore become known as "Cotswold Morris".
The teams consist of six dancers and a musician, and often a Fool. Each village produced its own steps and dances, and these have become the "traditions", known by the name of the parent village. Wath Morris focus solely on the Bledington tradition.
The set dances include handkerchief dances, processional dances, stick dances and hand clapping dances, there are also jigs for one or two dancers. Dancers wear a white shirt, white trousers and black shoes. Bells are worn below the knee, and the club costume includes a green and yellow baldrick.
Brimfield
Bromsberrow Heath Stick
Dilwyn
Evesham Stick and Handkerchief
Much Wenlock
Upton-upon-Severn Stick and Handkerchief
White Ladies Aston
Pershore Handkerchief and the stick dances;

Monkey Cocked His Tail Up
John Peel
The Girl with the Blue Dress
The Ashgrove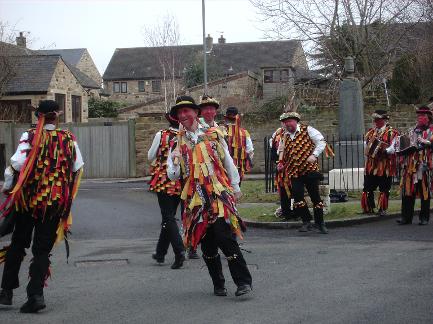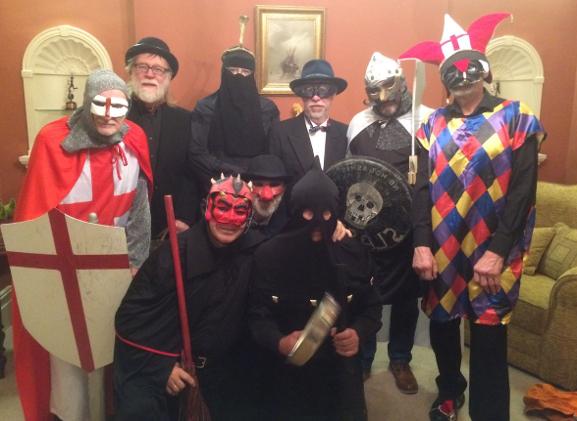 Wath Morris are also a mummers side performing plays collected in South Yorkshire or plays derived from that tradition. Essentially these are either The Derby Tup or St. George plays.
The side currently performs two plays. One is a Sword Play with an accompanying longsword dance from Penshaw in County Durham. The other play is a local St George combat play from the hamlet of Street near, Wentworth.
We usually perform these plays in the winter, around Christmas time but we are looking to incorporate them into our act throughout the year, with a view to providing a more varied spectacle.
The plays are presented on our resources page in pdf format for anyone interested in looking at them. Be warned however, that the dialogue is not set in stone and anybody watching the plays may experience significant variations from that published here.